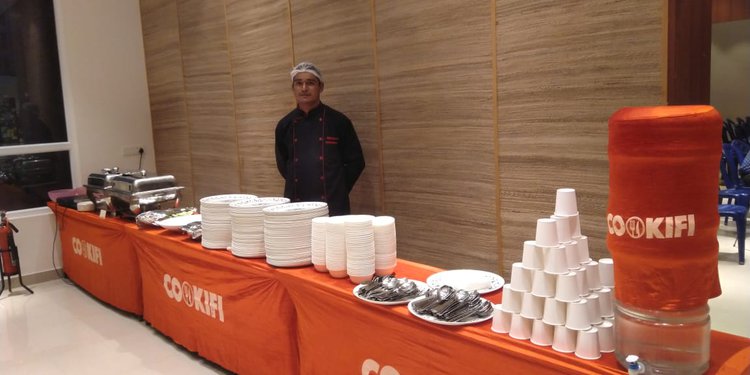 Classic and elegant Setup
We aim to make the setup and serving area more eye-pleasing by arranging the cutlery neat to perfection level. With Cookifi, you can rest assured that your guests are dining with the best caterers in Bangalore. We leave no stone unturned when it comes to maintaining hygiene standards in the food serving area.
Enjoy a Hygienic street food experience
From Pani Puri to Papri Chaat, we serve all types of street foods, in the most hygienic fashion at our specially curated Chaat live counter. We prepare the ingredients and fillings from scratch using the expertise and recipes of our well-trained chefs. So you can enjoy the chaats without a care or worry.
Buffet setup complete with Food warmers
A neat and sophisticated Buffet setup complete with Food warmers is the trademark of Cookifi, we make sure your food setup and serving area looks elegant and eye-pleasing to your guest. Just to ensure that you have a pleasant experience, our team arrives an hour prior to your food start time,
Previous
Next

Salarpuria Greenage located in Hosur road Bangalore is one of the prime clients of Cookifi. We have catered to numerous parties at this location including birthday parties, house parties and more.
Catering at Salarpuria Greenage
Cookifi has done
40
+ catering orders in Salarpuria Greenage. We have served food to
1700
+ people in catering orders in Salarpuria Greenage. Last order was on Sunday, 16th February. Pan Bangalore we have done 5000+ catering events. We cater to Indian regional cuisines like Punjabi, North Indian, Bengali, South Indian etc as well as global cuisines like Italian, Continental, Mexican, Thai etc. Our live counters like pasta live counter, pizza live counter, chaat counter, live dosa counter, live berbeque, etc are very popular. Animesh Ranjan
Highly recommend their services. I hired them for buffet lunch for 50+ folks and had a great experience. Prompt support while making the selections of menu online by Shubhashree and hassle free execution on day of event. Chef who serviced my order, Mr. Shankar Paswan and his team were timely, very …
Source: Google Radhika Seth
I hosted my sons 3rd birthday at home and had called 30 plus people.. wanted to serve them hot snacks and food.. Cookifi made us the nicest host and prepared the best veg pizzas - even the non vegetarians loved it.. each and every starter and main course item was finger licking good.. they even did…
Source: Google Surya Vishwanath
We had booked Cookifi for my son's birthday party and they exceeded our expectations. The servicing and staff were as excellent as the truly delicious food that they served . Overall, a great experience with Cookifi and would highly recommend them to anyone looking for catering services
Source: Google Amrita Banerjee
Wonderful experience.. awesome food, very punctual and professional. All of my 75 guests were very happy with the arrangements and food taste. A special thanks to "Bapi" and his team for the tasty food.Thank-you cookifi for making my party a success.
Source: Google Sivraj
Really great experience and flawless service. No follow up required, no guidance and no mess. They come on time, prepare and keep things ready what is supposed to be and go. This is a for my son's birthday party that I arranged food of my choice through Cookifi.
Source: Google Payel Dey
I used them for my Son's Annaprashan (rice eating ceremony). Around 60 guests were served hot delicious veg as well as non veg dishes. The polite behaviour of the staff made it even more satisfying. Quantity, quality nothing was compromised on any of the dishes and it fitted our budget very well. L…
Source: Google