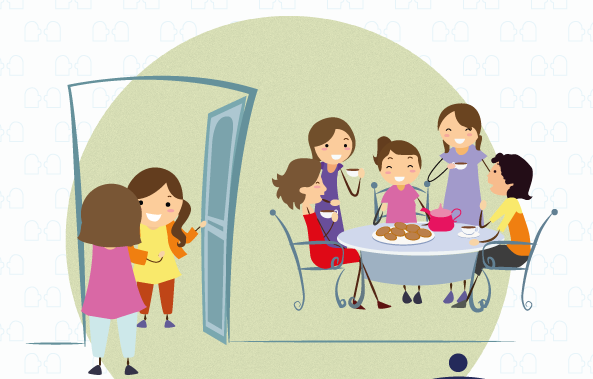 A Whole New Concept of Traditional Kitty Party !!
Kitty Party literally means a social get together where women fix up a date to enjoy themselves with their friends. Planning a kitty party at home is the best idea where you can gossip all day round, play games, sing, dance anything which lets you stay away from your duties for some time and lets you live the real you. Do make sure you don't waste your time cooking all day long. In fact, you shouldn't even think of cooking. Take a break just book a chef for your Kitty Party and let him take over the kitchen. While you ladies have fun, let him serve some out-of-the-world kinda food which will relish your taste buds.
Let your friends have the welcome drink with cooling sensation of the Watermelon Mint Juice freshening them up within since . After the drink, a scrumptious starter like Aloo Cheese Croquettes which almost looks like Tikkis or Kababs in the snacks or Cheese Corn Balls with those extra cheese along with the sweetness of the corns will conquer your mind. Apart from these, you have Samosas and Kachoris which you know are made with fresh oil right in your kitchen unlike those bought from outside. Chicken Keema Balls or may be dish out of seafood can be the best treat as well.
For the vegetarian folks, a delicious dish with paneer and baby corn along with tomato puree and onions named, Baby Corn Paneer Jalfarazie or Baked Mushroom Macaronie along with vegetables satiating your hunger pangs giving a delight feeling at the same time. And for the non-vegetarian folks, soft cooked flesh of the Roasted Chicken or smooth crispy fillets of Grilled Seafood on your platter will make you go real mad.
By the time you get tired of gossiping and playing games, your friends will drool over the Chicken Momos served hot in front of them. Dhokla or a home-made Chicken Granule Pizza with those freshly cut vegetables along with chopped chicken sausages and sauce can also be the best evening snacks. By the way, Spring Rolls with preferred stuffing are delicious as well.
Apart from these munch on food items, evenings can also be filled with nicely cut fruits like Mango and Watermelon Slices along with a pinch of chat masala.
Lastly dinners can take you to another edge of the delicious foodie world where you can have American Chopsuey with a bull's eye on the top and little extra parmesan cheese. Manchurian with both veg and non-veg delicacies can be taken in account along with Butter Naan or Lachha Paranthe.
The experience of home-made food with your theme menus is something beyond happiness and satisfaction where you don't have to deal with the cutting and cooking at all. All you have to do is let your chef know what you ladies prefer to have in your starters, lunch, snacks and dinner. Trust me they will take care of your kitchen as their own.
Comments
comments