Every family deserves a beautiful house and an extravaganza house party to welcome friends and relatives. After all, a house is made up not only of walls and bricks but bundles of love and sharing. What better way than an impressive house party for all your small or big occasions. Let's look at a few ways to plan an amazing house party.
KEEP IT SIMPLE AND ELEGANT
Don't go for over the top fanciness in the party when it comes to inviting near ones to your home. Let it be as simple as you can yet elegant. Make sure it's appealing. Beautiful lights and flowers would do the magic. Keeping it subtle would make your house shine brighter and the one stealing the show.
LIVE FOOD COUNTERS – Menu on show
Live food counters are the most perfect & innovative way of serving food at a house party. Guests can pick up the ingredients, flavour and spice that they like. Make your dish your way. These food stations will help offer the guest a variety to choose from.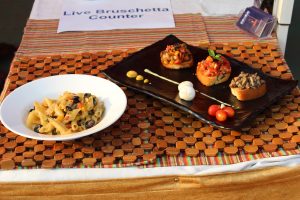 LIVE PASTA CORNER
Plan to have a live pasta corner. It is one dish every guest looks around for in every house party. Although what's different to each is the topping. You never know if one likes mushroom, olives, onions or corns in their pasta. Live pasta corner is best way to take care of this. With toppings and shapes of pasta laid out on a table. One can get whatever toppings, sauce, spice and shape they like.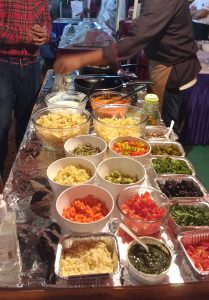 BARBECUE
Outdoor barbecue for delicious steak, grilled chicken, fish, corns and lots of other dishes calls for a great winter house party menu. Serve it hot and yummy. Guests can ask the chefs to grill them whatever they wish to eat. Keep the menu on show.
DESSERT AND DRINKS
Chef's advice that either you keep a cake of certain flavour or three- four types of desserts. The choice is yours. You can go for traditional sweets like Gulab Jamun , rabdi , Gajar halwa , Rasmalai or western desserts like blueberry cheese cake , doughnuts , pie , chocolate fudge or ice creams. As for drinks you can plan to keep base ingredients like soda, soft drinks, lemon, mint mojitos, orange, mango and more. Allow your guests to make their drink with help of the chef.
Comments
comments