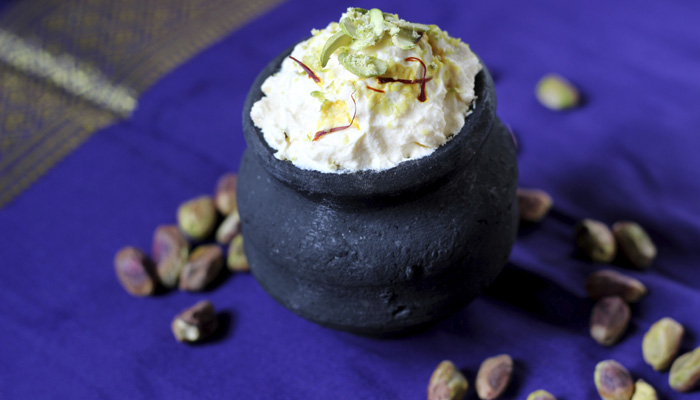 Janmashtami is the famous festival where the birth of Lord Krishna is celebrated in a grand manner all over the world by the ardent devotees. They pamper their Lord in every possible way. Many arrangements are even being made to show their love and devotion towards Krishna. One of the most important ingredients of this festival is food that is prepared for the offering.
Here are some of the traditional delicacies that can be offered at the altar to Lord Krishna celebrating this Janmashtami.
Nuts cooked with butterscotch syrup add a nice crunch to this novel kalakand-based sweet that you can create in a jiffy!
Dahiwale Aloo Ki Subzi with Rajgira Puris
This potato-based dish comprises all the spices that are allowed during fasts, assembled in a manner fit to please. Enjoy it with rajgira puris this Janmashthami.
The aroma and rich flavor of ghee-roasted wheat flour, sweetened with jaggery, is just too delicious to explain in mere words. Since it is so easy to make, you can experience it for yourself!
Can be made the day before and served chilled or warm on the day of the festival, Kesari Meetha Bhaath is considered to be the Queen of sweet dishes made with rice.
Packed with calcium and protein, this energy rich recipe is just what you need to perk you up on the day of the festival. As always with desserts, remember that moderation is the keyword here.
One of the quickest and easiest sweet dishes is Mava Peda. Made with the fusion of khoya and flavored with cardamom and saffron, it goes perfectly well with this Janmashtami.
Miniature parathas topped with stir-fried aloo ki sabzi and spiked up with a dollop of green chutney. This is a great way to entice your kids to eat paratha sabzi.
A yummy, melt-in-the-mouth treat with the contrasting flavors of milk and orange! The traditional Bengali mithai, Sandesh, is made more exciting by the addition of orange squash, which gives a lively dimension to it.
This creamy delicacy is made with all the goodness of milk without the fat because of the use of hung low fat curds. Use fresh curds for best results. You can also add strawberries or pineapples instead of the saffron and cardamom to make a fruit flavored shrikhand.
Comments
comments