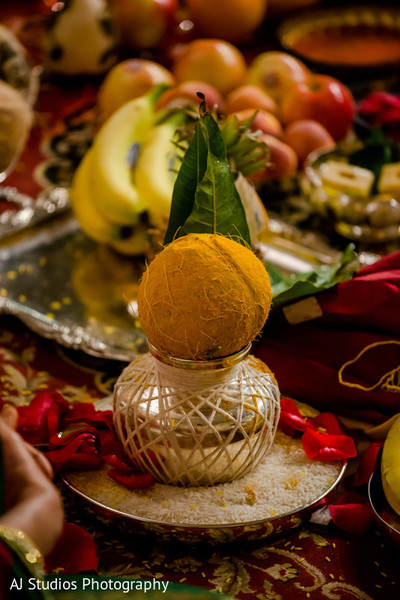 India is such a diverse nation, with so many different cultures, traditions and customs. When it comes to festivals we Indians, love to put on our best attire and celebrate with full fervor. Ugadi is the festival celebrated in a large part of South India, and its twin The Gudi Padwa is celebrated in Maharashtra.  Both these festivals mark the new years for the Hindu Calendar.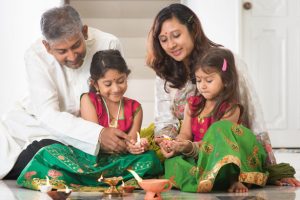 Shuddha Paaadyami is the first day of the Chaitra Month, on this day, people decorate their houses with Torans(  a garland hung on the doors) made of Mango leaves and red flowers. Leaving the past behind and starting afresh with positive expectation is one of the key aspects of Ugadi.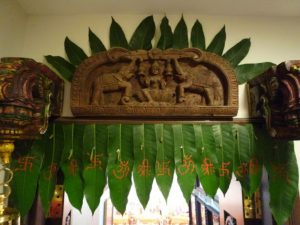 The day also called as Cheti Chand by Sindhi People, marks the beginning of spring season, which is considered to be the first of all seasons, with plants, shoots, and leaves coming to life and therefore, the day is believed to set things rolling for a fresh and successful new beginning.
It is believed that as summer approaches, our bodies, heat up, and lot of heat is not good for the body, so to cool off the Devotees apply Castor oil on their bodies, as it cools down the temperature of the body. Once the Bath is done with the house is cleaned and decorated. A cows manure is mixed with water and splashed on the entrance of the house, and a clean artistic Rangoli is drawn.  The doors and windows are adorned with strings of mango leaves that signify good crop and general well-being over the year.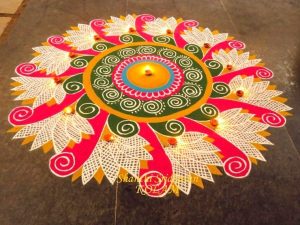 Ugadi Pachhadi, a unique dish of six different tastes, from sweet to bitter, is prepared on the day, which is also the first dish to be eaten by the devotees. Made up of Neem buds, Jaggery, Green Chilli, Salt, Tamarind juice and Unripe mango, the dish signifies different experiences in life that should be absorbed.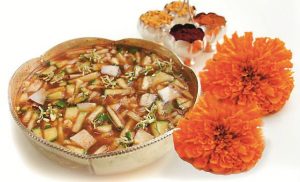 It is also a day when mantras, chants and predictions for the coming year are made by the pundits. People visit the temples to perform ritualistic Pujas and seek blessings from God for health, wealth, prosperity, and success in businesses and work
.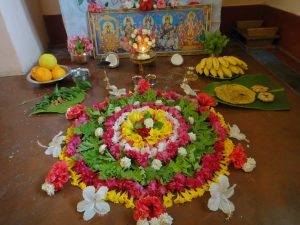 Gudi Padwa has a very similar celebration, where an erect Gudi( kind of flag) is hoisted in traditional Maharashtrian households. Bright green or yellow cloth adorned with brocade (zari) tied to the tip of a long bamboo over which Sugar crystals, Neem leaves, twig of Mango Leaves and a Garland of Red flowers is tied. A silver or copper pot is placed in the inverted position over it. It is hoisted outside the house, in a window, terrace or a high place so that everybody can see it.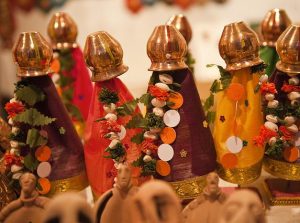 Maharashtrian families also make Shrikhand and Poori or Puran Poli on this day. Konkanis make Kanangachi Kheer, a variety of Kheer made of Sweet Potato,  Coconut Milk, Jaggery, Rice Flour, etc. and Sanna.  
The most important event though which makes this day so special is that, according to the Brahma Puran, this is the day when Lord Brahma created the universe and Satyug began. The day is also considered auspicious because the divine consciousness which emanates during the early sunrise, if absorbed, lasts longer.
The Poojas are performed to avert any negativity, and fill the surroundings with warmth. What makes Indian festivities so warm, and special is the fact that we share our happiness with everyone around us. The poor are also taken in for the celebrations, and distributed sweets and food like Wobbattu.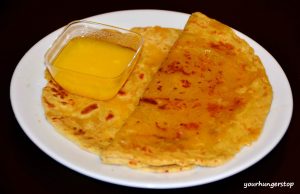 This festival is also celebrated in other parts of India and the world, it is known as Samvotsar Padvo to Konkans, Navreh in Kashmir, Sajibu Nongma Panba Cheiraoba in  Manipur.
References:
https://en.wikipedia.org/wiki/Ugadi
http://festivals.iloveindia.com/gudi-padwa/gudi-padwa-significance.html
Comments
comments