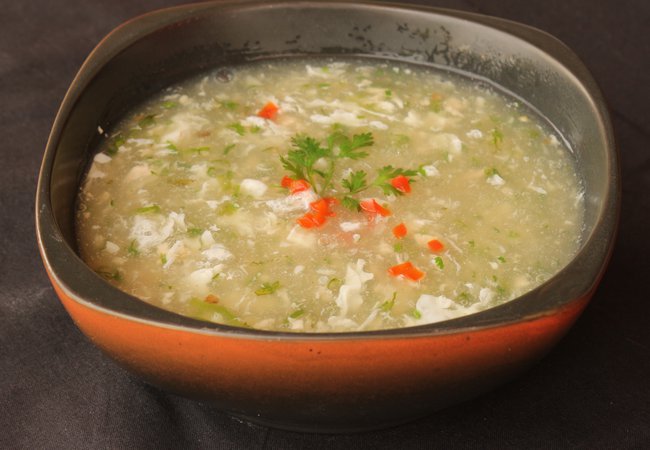 Soups are like a warm motherly hug when having a fever and cold. A good bowl of soup can not only uplift your mood and calm you down, it can relax your tensed up nerves and help you have a good sleep too. Soups are not only delicious but healthy too. They are packed with vegetables and full of nutrition. Here are 5 comforting soups you need to have when suffering a cold/fever:
The earthy flavor of mushrooms is at its best puréed into this soup. This soup's rich hearty flavor will easily satisfy your mushroom cravings while relaxing your mind and body.
Craving for a take away Chinese? Then this one is a must-have. One of the popular soups of Chinese Cuisine is the Manchow Soup.  Because of its hot and spicy taste, this is very good for people whose taste buds have gone sour due to the fever.
It includes scallops, ginger, carrot, French beans, coriander leaves, mushroom, capsicum and flavored herbs served with fried noodles.
Crushed and whole sweet corn comes together with a colorful assortment of juicy vegetables in this sumptuous soup. So good that your insides will feel goooood.

Tastebuds wanting something spicy to let the juices flow? You need this popular Punjabi delicacy. The Tamatar Dhania Shorba is also the Punjabi's version of the popular tomato soup. Served piping hot, this Shorba combines the goodness of tomatoes and coriander.
These were few of the comforting soups that you can have to relax the uneasiness. Be it any cuisine, any time of the day, any weather or any mood, A Good soup is one of the prime ingredients of a good living.
Do you know of any other comforting soups to warm you up? Tweet to us Cookifiapp and we'll feature them on the list. Get well soon!
Comments
comments