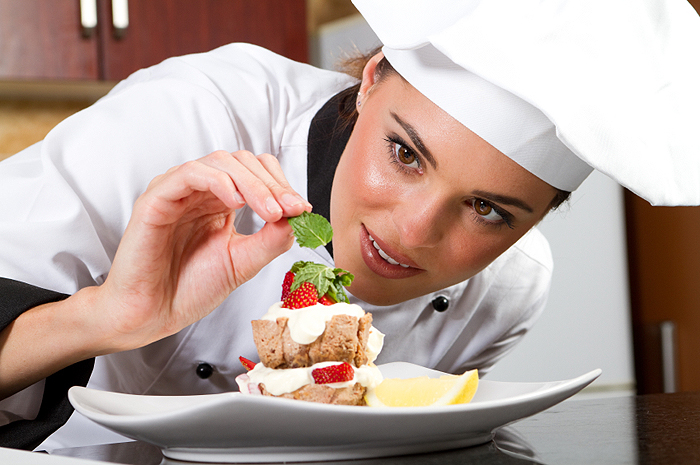 "She believed she could and so she did"
As we celebrate the Women's day this week, we are bound to remember the contributions of women who contributed their time and efforts into the food industry. Some of them made it big and some are still on their path to success and recognition, endlessly striving for excellence.
Our mothers and grandmothers have always fed us the best delicacies, and after all these years we still have not been able to achieve their level of mastery. As a famous person once said "It is her love, which is the special ingredient".
Cookifi identifies with this spirit of a woman, one who is fearless, confident, and consistent in her efforts. One who is not afraid of challenges and setbacks and works tirelessly to achieve her dreams and put a smile on the faces of people around her. And so, to honour this selfless attitude of women, Cookifi brings you a list of most influential Indian names in the food industry.
Tarla Dalal – Tarla Dalal does not need any introduction. You must have come across her books in any of your relatives' house, the local bookstores or on your flight. With 15,00,000 copies of "The Pleasures of Vegetarian Cooking" she is the most sold cookbook Author in India. She has hosted shows like "The Tarla Dalal Show" and "Cook It up with Tarla Dalal." Her works were a delight for Vegetarians and she specialised in Gujarati and Bengali Cuisine. She has written over a 100 books and is the recipient of PADMA SHREE and Woman of the YEAR.
Nita Mehta– Nita Mehta is a praised culinary specialist and has penned more than 600 books. Her books cover a huge number of cooking styles from around the globe. 450 of her books have been on the smash hit list. A few of her books have won International Awards. She has directed cooking classes in USA, UK, Canada and a few other nations, and showed up on numerous TV channels in cookery shows.
Pankaj Bhadouria– Pankaj Bhadouria was a humble English teacher at a high school before she rose to Fame with the winning title of Master Chef India Season 1. Since then there has been no stopping her. She has authored 4 cookery books and hosted hit Cooking shows on the channels Star Plus, Zee Khana Khazana/Living foods, Food Food, ETV etc. She has been invited as a speaker to many prestigious events. Chef Pankaj started her culinary academy in Lucknow which offers Professional Courses and Certificate Courses for amateur chefs. She is also the face of many brands and endorses for Travel and food products.
Archana Doshi– A software Techie turned YouTube star, Archani Doshi is star of Google Chrome Ads. The Kitchen queen started her own small catering business and then she took cooking classes at home before starting her blog related to recipes for infant and kids food. She then launched a website on the same and moved on to YouTube and started doing video tutorials on her channel "Archana's Kitchen". Currently she works with bloggers and nutritionists from around the world.
Shipra Khanna– Shipra Khanna's story is highly inspirational to the women of today, a broken marriage, a disabled child, a young separated woman, and then happens Master Chef, season 2, a show which changes her life for the better. Exceptionally talented and immensely beautiful, Shipra is no less than a professional model and she has often been tagged as "Most Glamorous Indian celebrity chef". After winning the coveted title, she went on to host TV cook shows and has authored 2 cook books. She has been honoured by Le Cordon Bleu Paris and has a YouTube channel "Shipra's Kitchen" to her name.
Nisha Madhulika– A Former accountant then a retired homemaker in Noida, 56 year old Nisha Madhulika started her website- Nisha Madhulika.com in 2007. Passionate about cooking, she started her YouTube channel in 2011. She is known for making recipes with easily available ingredients. She has posted more than 1100 videos on her channel so far. She is one of the most popular chefs online and was recently featured in YouTube Top Chefs coffee table book. The humble and sweet way in which she conducts her video tutorials make them even more likable and favoured.
Shazia Khan– Bangalore's pride Shazia Khan was the runner up of Master Chef India season 2. Before participating in the show she was a member of the board of management at Delhi Public School (Bengaluru/Mysuru). Shazia's amazing twists to traditional food recipes and hunt for authentic Indian cuisines inspired her to pen down her first book "What's on the Menu". Shazia went on to host events and cookery shows, and has a few YouTube videos to her name. She plans on starting a culinary school soon enough to save fellow Indians from spending excessively on travelling out of country to learn cooking.
Pooja Dhingra – Pooja Dhingra is a renowned Pastry chef and Entrepreneur. She entered into an unchartered territory, by introducing Macaroons in India and opening the coveted Macaroon bakery chain " Le 15 Pattiserie " She has authored " The Big Book of Treats" The patrons of her ventures include Bollywood stars, sportspeople, corporate czars and politicians. She has been featured in Forbes India's prestigious 30 under 30 in 2014.
In a male dominated Food industry, these women have excelled in making a mark. As the years go by, a lot of women find their interest and make careers in this field. Cookifi wishes you a Happy Women's day, and hopes for your success in all your ventures.
Comments
comments