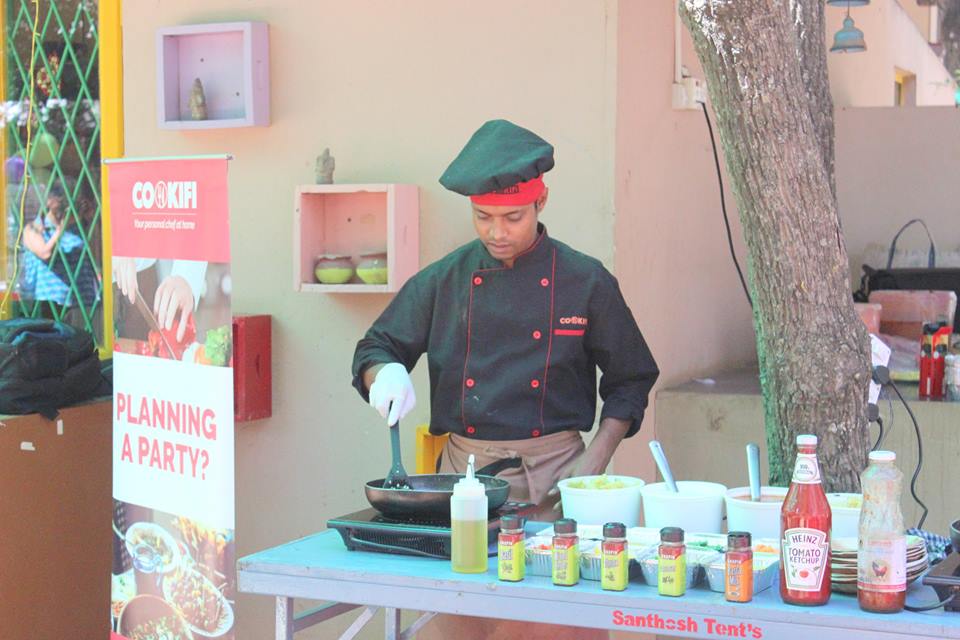 Live Pasta counters are the new party rage. Gone are the days when people used to cook for guests or depend on traditional caterers to deliver food home. With the inclusion of a  Live Pasta counter, a party becomes even more hip and happening. The advantage being that visual element added by these counters.
So what makes Live pasta counters special ? The fact that guests can customize their dish according to their whims and fancy. It makes the whole dining experience interactive and lively. The engagement between the chef and guests becomes the main ingredient in the dish.
Pasta's being a kid and adult favourite is a hit live counter in every party, this is because they are highly customizable. You can not only choose the shape and size, you can opt for a sauce and toppings of your choice. Here are a  few ideas for a Pasta live counter to please your guests.
Spaghetti: Long,thin and round strands of boiled noodles made from salted dough are coated in sauce and tossed with vegetables and meat of choice. Kids love it and mostly they are referred to by their Chinese nickname- Noodles. But what makes spaghetti different is that they are made of semolina unlike its wheat/flour Chinese counterpart.
Types of Spaghetti which can be cooked are:
Spaghetti with Meatballs: The pre-prepared meatballs are cooked with a tomato sauce and once done the spaghetti is added. 

Spaghetti in Bolognese sauce: A tomato sauce with garlic and other herbs is cooked with celery/leek and minced meat/chicken, once the sauce reduces, the spaghetti is tossed into the pan and mixed. 
Penne: Penne pasta is cylindrical/tube shaped. The length is usually about 1 ½ inch, the par boiled penne is tossed into a pan which already has a cooked sauce, a few vegetables and seasonings are added and it is cooked over a high flame to get coated with the sauce.
The variations you can have in Penne are:
Penne in pesto sauce: Pesto sauce is made from basil, olive oil, garlic , and pine nuts. A drizzle of parmesan cheese from above makes it even more delicious.

Penne in Arabiatta sauce: Oh no, it has absolutely nothing too with Arabs, it actually means highly spicy or red hot spicy in Italian language, the main ingredients being red and black pepper.

Penne in White/Alfredo sauce: This is the king of the Pasta world and the synonym for comfort food. Made with flour, butter, and milk, with a generous helping of cheese, this pasta will transport you straight to Italy.
Fusilli: Fusilli are spiral, long and thick. They are shaped like corkscrews. Fusilli are a nice alternative of penne, and many people prefer it because they can hold a little more sauce due to their ridges. Fusilli are generally cooked on a medium to low flame so that the flavour of the sauce amalgamates into the pasta.
The Variations you can have in Fusilli are:
Fusilli in Pesto Sauce: The Pesto sauce can go very well with Fusilli too, usually a helping of tarragon or marjoram is also added to make it more flavorful.

Fusilli in Neapolitan Sauce: The basic tomato sauce made with herbs, and tomatoes that are boiled and blanched.

Fusilli in Alfredo Sauce: the White creamy Sauce with oregano and parsley is coated onto Boiled Fusili pasta.
Fettuccine: Fettuccine are ribbon like, they are a wider spaghetti of which the dough is made with flour and eggs,  they are cooked till al dente i.e. par boiled and then cooked in a pan with olive oil and sauces. The fettuccine are usually served with in Alfredo/ White sauce but another version with zucchini and red Peppers is also quite popular.
Pasta effortlessly combines all Italian herbs like oregano, rosemary, parsley, thyme and vegetables of your choice like Bell Peppers, Zucchini, Olives, Mushrooms, Jalapenos, Broccoli etc. Pasta is one dish that never fails to impress the guests, which is why it is the choice at many parties.
Comments
comments