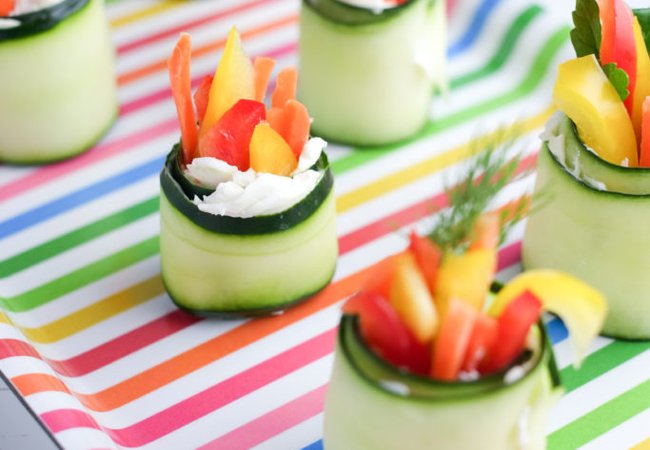 Honestly, the hardest guests are the youngest ones! We've had 'em all and served 'em all. "Mommy why is this rice so stinky? "The vegetables look so Yucky!", and "this soup tastes like sweat". The fussing around and running behind to feed them takes the fun out of your party. So, that's why Cookifi came up with 11 dishes for Children's day outs and parties that will have the kiddies munching away all smiles without a care in the world.
Whats more we are launching the dishes for children's day on 14th November, and this menu will be all yours to customise and add and remove according to what the little army will like and dislike.
Crispy Sandwich Sticks
Crunchy breadsticks coated with mint chutney, red sauce, mayo, cheese slices and layered with healthy and colorful veggies. Perfect appetizer for the kids who love the good things small.
Crispy Cottage Cheese Bars
Paneer coated in Californian Mix and served with tangy mustard, and BBQ sauce will be loved by the kids. They're crisp from the outside, yet the paneer is tender and juicy.
Creamy Cucumber Roll Up
Cool cool and refreshing!  Cucumber roll-ups are a delightful yet healthy option in the kid's party menu. The little army is going to love them.  Made with cucumber, herb cheese & veggies.
Mac and Cheese Bombs
Mac N cheese is heaven in itself. Now imagine, bite-size versions of it coated in panko and deep fried?? Ultimate BLISS
Butter Corn Cups
Colorful & tasty Butter Corn cups are a Kiddy favorite. Steamed corn kernels with a special mix of spices & veggies.
Nutella Pancake Rolls
Want to entice the kiddies with something yummy? How about some pancakes rolled with creamy gooey Nutella inside sprinkled with Icing sugar?
Colorful Pinwheel
Ever seen something so brilliantly colorful? The pinwheels are made from bread, cream cheese, tomatoes and a combination of freshly cut vegetables.
Tomato Basil Pizzalettes
Kids love Pizza, right? how about we serve them a mini version of the same- Here's presenting Tomato Basil Pizzalettes.
Veggie Chotu Burger
Chotu Veggie Burgers are filled with healthy vegetable patties and mint chutney. They are the perfect appetizer for your kids' parties.
Mini Beetroot Falafel
Kiddies fussing over vegetables? Look how Appetizing and colorful these Beetroot Falafels look. No fuss only smiles!
Fruit skewers
Colorful, sweet and so healthy, seasonal fruits are skewered dipped in sugar syrup and served like lollies to the little ones.
If you know what to serve to the little ones to make them happy, your party is never going to be a bore for them again.
For more such ideas keep following us on Twitter.
Comments
comments