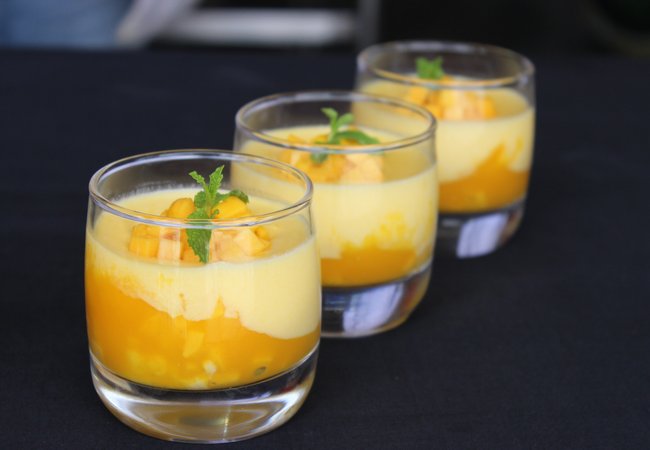 The Mango season is officially here and we honestly can't keep calm. After all, the king of fruits has arrived and our minds are exploding with ideas on how to use them in our sweet and savory dishes. So here are 5 pick of the season mango recipes that you can use to delight your guests:
A curry which will make you drool, the Kairichi Aamti is is a traditional Konkan recipe that has a spicy,tart,sweet taste. An unusual dish at your party will take the guests by surprise. Raw mango Aamti is best had with steamed rice and tawa fries as side accompaniments.
Now, who had thought of introducing Mango to meat?  This curry will have your guests asking for second servings. Yes, it is that good, it uses Mango puree of a mid -Ripening mango to balance the flavor between sour and sweet. With garlic, chilies and Coconut milk to enhance its deliciousness. You have to taste it to believe it.
A subtle variation to lemon rice, Mango Rice, is when you have grated Raw mangoes infused into pan tossed rice with Peanuts and Mustard and curry leaves. This is a great hit because of its tanginess, and unique flavors, you can serve it as an alternative for your usual Biryanis and pulaos.
Shrikhand is a crowd favorite, which never fails to please the guests. With Strands of Saffron, crushed Cardamom and pureed Mangoes, it makes for a delectable dish with a side of Puris, garnished with flakes of Almonds. If you want this item in your party contact our caterer in Bangalore
A surreal dessert which will enhance the whole experience of your meal. A soft creamy Pudding made with milk, Condensed milk, crushed Mangoes, and sugar. The Perfect ending to the perfect meal. Served with a generous helping of freshly diced mango chunks on top.
There are many more dishes with mangoes which you can introduce at the dining table, Mangoes are a versatile Ingredient which brings a burst of flavor to any dish they've been added. Do you have any such Mango recipes which can be served at Parties? Comment below or tweet to us and tell us.
Comments
comments