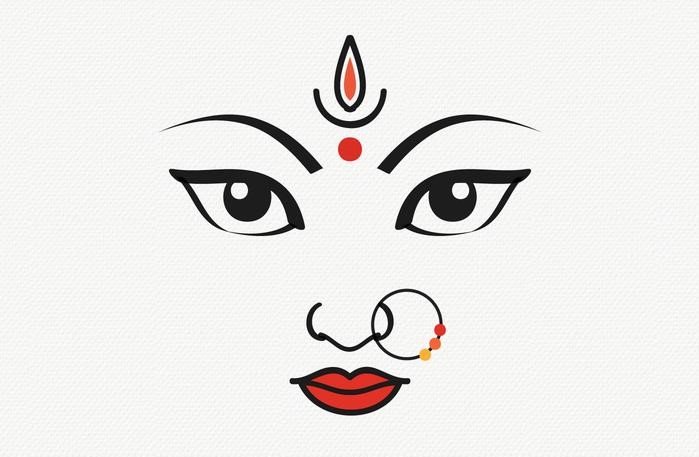 Durga Puja is one of the devout festivals of India which is celebrated through ou the country with great enthusiasm and zeal. It is Mostly celebrated in the West Bengal region of Kolkata and in south India. This is a major festival for Bengal and south people. This festival is celebrated for 9 days and the 10th day of Navratri which is called as Dashami on this day the idols of the goddess of Durga immerged into the water and this is called Visarjan. People go to pandal to celebrate Durga Puja and here are Best Durga Puja Pandal to visit this Year 2018 – #Don't Miss 
Durga Puja Pandal in Whitefield.
This is one of the biggest and oldest Durga Puja pandals in Bangalore. you will see a huge stage for the cultural fest and a big idol of Goddess of Durga and huge stalls for Durga special dishes. This is also an opportunity for business you can participate in the events.
Check our post for 12 Durga Puja Delicacies you can't Afford to Miss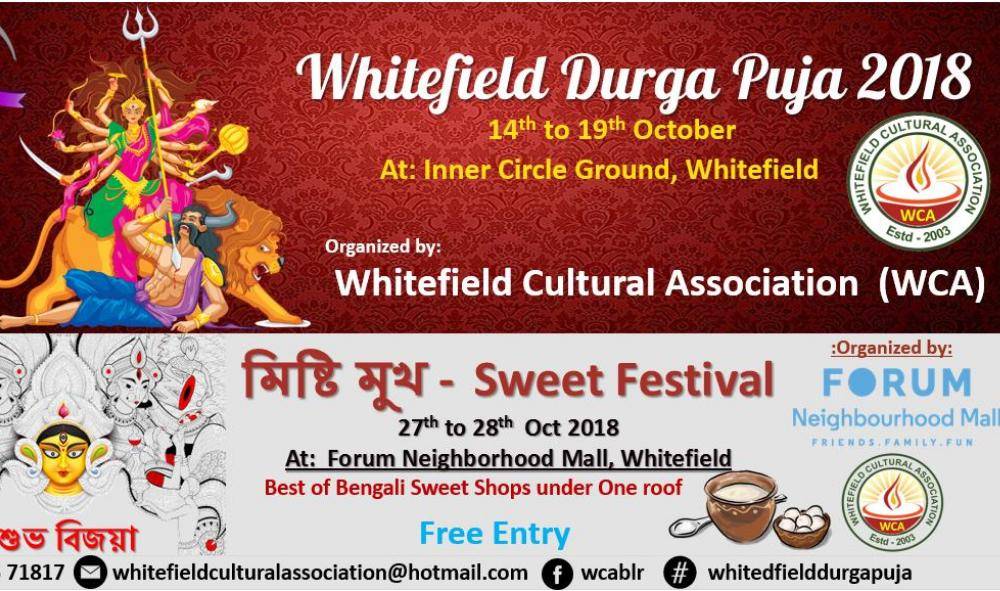 Location: Whitefield Inner circle Park
Timings:  Mon, 15 Oct 12:00AM – Fri, 19 Oct 12:00PM
Entry Fee: Free
Barsha Durga Puja
Barsha Durga puja pandal is one of the biggest pandals in Bangalore. If you are from Kolkata and missing your place for Durga Puja then this is the best place to go for you. They have food stalls that give you mouth watering dishes from across India especially from Kolkata.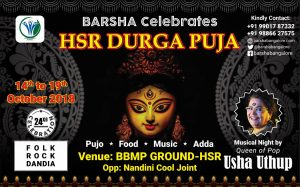 Location: HSR Layout
Timings: Sun, 14 Oct 4:00 PM – Fri, 19 Oct 3:00 PM
Entry Fee: Free
Anandotsab
This is the place where Durga Puja and Dussehra are celebrated at one place. This is the traditional celebration of the festival and you can participate in many cultural events they organize for both adults and kids.
They have a musical night by artist and Dandiya dance.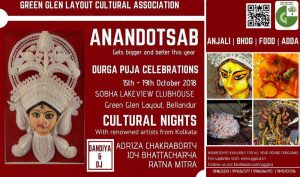 Location: Shoba Lakeview Clubhouse, East Bangalore
Timings: Sun, 14 Oct 5:00 PM – Fri, 19 Oct 9:30 PM
Entry Fee: Free
DANDIYA Fever
If you want to enjoy your festival with Dandiya dance then this is the best place to go this is for the couple, no stag entry, you have to book tickets in prior.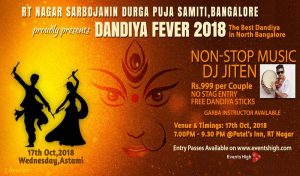 Location: Patels Inn, North Bangalore
Timings: Wed, 17 Oct 7:00 PM – 9:30 PM
Entry Fee: 600 Onwards
Durgastav And Rama Leela Ganga Vertica
This is the place where you can do all the things including Ravan Dahan. you will enjoy Mata Ki Chowki, Cultural events, free Bollywood style dance and most important Ramleela followed by Ravan Dahan.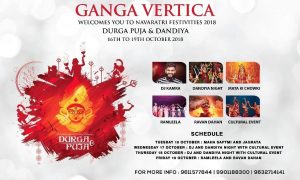 Location: Ganga Vertica
Timings: Tue, 16 Oct 8:00 PM – Sat, 20 Oct 6:00 PM
Entry Fee: Free
Durga Puja- Sarathi Socio
This is the most vibrant Durgastav in Bangalore. You will have a live musical concert by top Bollywood and Tollywood singers enjoy the aroma of music.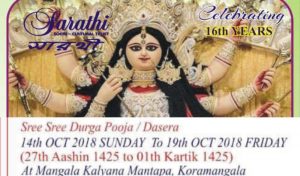 Location: Mangala Kalyana Mandapa, Koramangala
Timings: Sun, 14 Oct 5:00 PM – Fri, 19 Oct 8:00 PM
Entry Fee: Free
Enjoy Durga Puja!!
Comments
comments