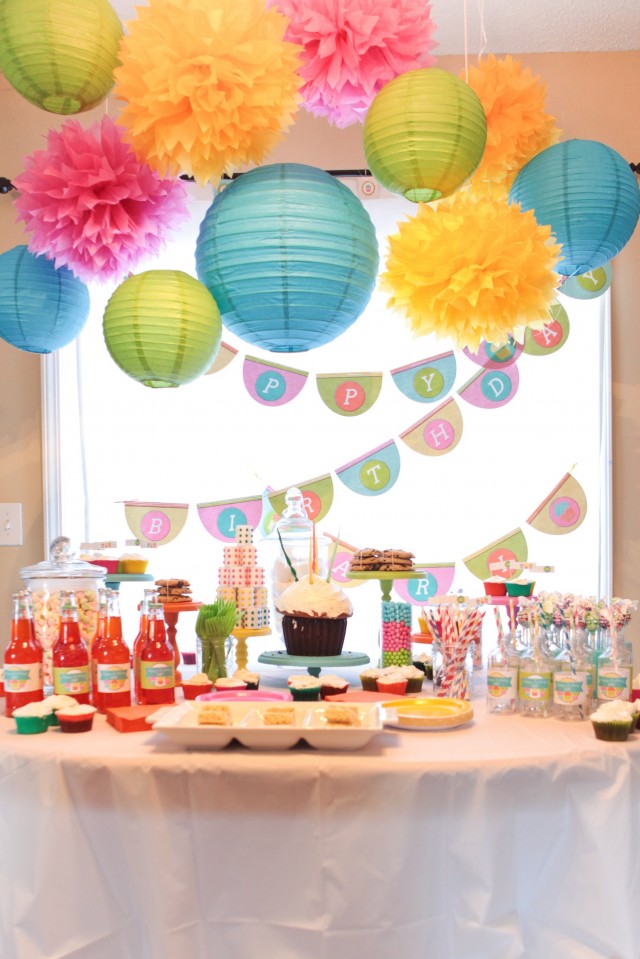 It is your little one's special day. Kids wait all year to celebrate their big days, and with one of these amazing party themes. Here we come up with 10 new themes for kids birthday party that best matches your little one.
A Space Party
Three, two, one and blast off! You cannot take a child to the moon, but you can still create an outer-space this is a new birthday party theme that is out of this world!
A Rainbow Birthday Party
Perfect for a girl or a boy, a rainbow birthday party is easy to plan and execute! Colorful decorative items like paper lanterns, polka-dot pinwheels and one-of-a-kind party hats & return gifts make this party extra cheerful.
A Super-Girlie First Birthday Party
This beautiful birthday party is as girlie as it gets, with a sweet dessert table, the prettiest rose-covered cake, and one seriously adorable birthday girl.
A Pirate Party
Lil pirates will love boarding your backyard pirate ship to set sail for hidden treasures. With all the direction orders given, you get to hear Aye Aye Captain! Its a new theme for kids birthday as they will love to dress in pirates & choose a food theme as new as Pasta Pirates
A Snow White Birthday Party
With candy apples, fairy-tale bluebird cookies, candy-gem-cupcakes, truffle cake, and bejeweled mirrors, this royal Snow White birthday affair is fairy-tale perfection.
Pink Princess Birthday Party
If your little royal still has not decided on a theme for her upcoming birthday, a pink princess party might be just perfect. Dazzling details and sweet treats make this girlie birthday bash an affair to remember!
A Floral Party
This flower-filled birthday party is full of beautiful details like fabric rosettes, hints of burlap, and two beautiful food stations – one for brunch and the other for desserts!
An Elegant Princess-Themed Party
A princess-themed birthday party can be a simple and beautiful affair without having to be over-the-top fabulous.
Disney Cars Party
Start your engines! Boys, both big and small, love cars and it is almost certain that your little man also love the movie. Throw him a "wheelie" cool party for his upcoming birthday.
An Alice in Wonderland Birthday Party
Fall down the rabbit hole and into this Alice in Wonderland birthday party! The magical afternoon tea party in Wonderland will delight for your girl's next birthday celebration.
Comments
comments